---
Funeral for the American Worker - Tues. May 21st, 2PM, Doral
As part of a nation-wide grassroots effort by www.Remember1986.com, FLIMEN is co-sponsoring a Funeral for the American Worker / Press Conference.
Date: Tuesday May 21, 2013
Time: 2 PM.
Location: Doral office of Senator Rubio, 8669 NW 36 St. Miami, FL 33166
Other: Bring your anti-AMNESTY sign. Wear black.
Senator Rubio's S.744 AMNESTY-First No-enforcement bill will flood the US with 33,000,000 foreign workers just in the first decade. The mass inflow of cheap foreign labor will cause the American worker to die of wage starvation.
This event will feature a Eulogy for the American Worker by award winning talk show host Joyce Kaufman.
The Funeral for the American Worker is expected to draw a big crowd (considering that it is a work day) as well as media cameras focusing on the coffin and eulogy.
Co-sponsored by:
Richard H. Freer
Co-Chair, SOUTH FLORIDIANS AGAINST AMNESTY
(305) 253-9353 office /landline
(786) 201-1415 cellular/mobile
Show your compassion for the plight of the AMERICAN worker by joining us.
Please distribute widely, especially on social media.
May 14, 2013
TRANSPORTATION TO THE FUNEREAL FOR THE AMERICAN WORKER:
If you want to attend the Funeral for the American Worker at Marco Rubio's Doral office but need transportation, email transport@flimen.org

Please state the following:

You confirm you will go. (important to FLIMEN due to costs)


Name of each individual requiring a seat, their location (address or convenient meeting place) their email address and their phone number.


FLIMEN will communicate with them directly regarding convenient pick up points once we know where the majority of people are originating from in a path beginning in Stuart traveling through Ft. Lauderdale to Miami.


If people who will drive to Miami and have room in their vehicle, please email transport@flimen.org with that information.
---
Rubio - The Amnesty Man
You are going to love Rubio - The Amnesty Man.
This video song is a MUST watch and listen:
Please Like and Share on Facebook and Follow and Retweet on Twitter. Also, forward widely.
Vist www.marcorubioamnestyman.com for lots of information on Marco Rubio AMNESTY Man.
April 30, 2013
---
Has the Republican Party surrendered to Obama on immigration?
OUR COUNTRY IS ON THE PRECIPICE OF A HUGE MISTAKE BASED ON LIES. WE ARE ON THE EDGE OF KILLING THE DREAMS OF OUR CHILDREN. AMNESTY CAN BE STOPPED AGAIN BUT ONLY IF YOU TAKE ACTION TO OPPOSE AMNESTY.

The way the Republican Party is attempting to "rebrand" is essentially surrendering to Obama on immigration and abandoning the American worker.
GOP calls for AMNESTY

https://www.numbersusa.com/content/news/march-18-2013/gop-calls-amnesty.html
"The Republican National Committee endorsed amnesty on Monday through its report entitled "Growth & Opportunity" that analyzes the 2012 election results. In the report, the Party concluded that it needs to do a better job reaching out to minorities and young people, and comprehensive immigration reform that includes an amnesty for 11 million illegal aliens is one way to do just that."
FLIMEN Note: The following article by William Gheen of ALIPAC is a raw and brutally truthful analysis of pro-AMNESTY Republicans. Mr. Gheen correctly labels FOX News as pro-AMNESTY which invalidates the FOX claim of "Fair and Balanced." Mr. Gheen also correctly rejects the Rand/Rubio claim that amnestied illegal aliens won't be voting. It is clear that the Obama/Rubio Doomsday AMNESTY will destroy not only the Republican Party but the United States of America.
http://www.alipac.us/f8/rubio-rand-pauls-amnesty-trick-will-lead-conservatives-their-own-doom-275251/
Rubio and Rand's Trick To Lead Conservatives To Their Own Doom
"If you turn on Fox News, you won't find me there anymore even though I was a regular guest up until shortly after Murdoch announced his support for Bloomberg's amnesty plans in early 2012. In fact, you will almost never spot a any guest on Fox that opposes Comprehensive Immigration Reform and all the major hosts like Sean Hannity and Bill Oreilly."

"The dangerous poison Rubio and Rand are selling to the conservative base is the false belief that illegal immigrants can be somehow given legal presence without ever becoming voters in US elections."
http://www.washingtonpost.com/blogs/plum-line/wp/2013/03/26/why-immigration-reform-may-not-help-the-gop/
"In other words, even if Republicans do some leading on immigration reform, and even if they provide votes, the political credit - or a large share of it - will accrue to Obama. There's not much in government the public doesn't attribute to the president. If immigration reform is passed, then he - and not his Republican partners - will receive most of the praise."

"If the AFL-CIO boss and their Democrat cronies gets their way, not only would their be a "pathway to citizenship," illegals would get free ObamaCare, guest workers would be paid more than American workers-and guest workers would be able to bring their families along to the U.S. as well."
IF YOU CARE ABOUT USA AND OUR CHILDREN'S FUTURE call Florida Senator Marco Rubio and ask him to withdraw from his AMNESTY bill, tell him how you and our children are the victims, and tell him you are disappointed he has done the exact opposite of his anti-AMNESTY campaign promise, at:
(866) 630-7106 Toll free

(202) 224-3041 Washington DC

(407) 254-2573 Orlando

(305) 418-8553 Miami

(561) 775 3360 Palm Beach

(813) 977-6450 Tampa

(904) 398-8586 Jacksonville

(850) 599-9100 Tallahassee

(239) 213-1521 Pensacola
Tell the Republican National Committee you are appalled they support AMNESTY at (202) 863-8500 or http://growthopp.gop.com/feedback.aspx

April 3, 2013
---
SMASH OBAMA/RUBIO DOOMSDAY AMNESTY
High legal and illegal immigration levels have thrown the American worker under the bus and
the Obama/Rubio AMNESTY will throw our children and grandchildren under a convoy of 18-wheelers
The liberal opinion media and others unabashedly promote 'Comprehensive Immigration Reform' as a solution for 11+ million victimized 'undocumented workers,' blah, blah, but never, never elaborate on the huge, negative, long-term impacts of AMNESTY to US citizens and their children.
AMNESTY WILL:
1) Be a continuation of the long history of non-enforcement of US immigration laws (http://beforeitsnews.com/immigration/2011/05/immigration-laws-not-being-enforced-by-obama-and-congress-604157.html,
http://cis.org/before-considering-another-amnesty-look-at-ircas-lessons),
2) Incentivize millions upon millions more to violate our borders and work without paying taxes, etc., (https://www.numbersusa.com/content/nusablog/cafarop/february-21-2013/immigration-proposals-could-double-annual-flows.html)

3) Allow legal immigrants (Permanent Residents) after a period of time to petition to bring in their mother, father, brothers, sisters, adult children or infant children which is estimated as high as 55 million often impoverished and illiterate persons over the next two decades to overwhelm our already overwhelmed social benefit system, (http://cis.org/OpedsandArticles/Nunez-Union-Tribune-021613-Obama) and,<![if !supportLineBreakNewLine]>
<![endif]>
4) Continue to drain our nearly bankrupt governments to the tune of an estimated $2.6 TRILLION over the next few decades (http://www.heritage.org/research/reports/2007/06/amnesty-will-cost-us-taxpayers-at-least-26-trillion).
The pro-AMNESTY forces outspend pro-enforcement forces by about 300-1. Unions want more union members to replenish their diminishing ranks. The Catholic Church wants a bigger flock. The Democratic Party wants more Democratic voters. Pro-foreign worker Republicans want more exploitable and cheaper workers. AND AMERICAN CITIZENS ARE THE VICTIMS when they have to pay the taxes and get displaced by foreign workers who undercut their livelihood.
QUICK, VOCAL AND TENACIOUS OBJECTIONS FROM CITIZENS CAN PREVENT THIS DOOMSDAY AMNESTY.
IF YOU CARE ABOUT USA AND OUR CHILDREN'S FUTURE PLEASE;
1) Call Florida Senator Marco Rubio and ask him to withdraw from his AMNESTY bill, tell him how you and our children are the victims, and tell him you are disappointed he has done the exact opposite of his anti-AMNESTY campaign promise, at:

(866) 630-7106 Toll free
(202) 224-3041 Washington DC
(407) 254-2573 Palm Beach
(305) 418-8553 Miami
(561) 775 3360 Orlando
(813) 977-6450 Tampa
(904) 398-8586 Jacksonville
(850) 599-9100 Tallahassee
(239) 213-1521 Pensacola

Call as many numbers as you can as often as you can.

You can fax Senator Rubio at 407-423-0941.

Email is not preferred but possible at; senator@rubio.senate.gov
2) Join for free at:
WWW.FLIMEN.ORG AND
THE FUTURE OF AMERICA IS IN SERIOUS JEOPARDY SO PLEASE CONVINCE YOUR FRIENDS AND RELATIVES TO HELP SMASH DOOMSDAY AMNESTY!!!!
March 14, 2013
---
SMASH Obama/Rubio Illegal Alien Golden Parachute and Employment Acts of 2013
Citizens have stopped AMNESTY since 2000 and we intent to SMASH Obama/Rubio Illegal Alien Golden Parachute and Employment Acts of 2013. While the bills have yet to be filed and would never be named as such, doesn't the title seem accurate from a citizen's perspective? Needless to say this will be our toughest fight ever. To a substantial degree the future of America's children depend on our efforts.
Current Links:
http://www.palmbeachpost.com/news/news/world/us-watching-as-cubalifts-curbs-on-exit-visas/nT3p9/

"It is expected that Cubans may try to go to third countries and that many of them will try to make it to the U.S. from there but how easy that will be is also yet to be seen."

FLIMEN Note: Another Mariel in the making? Maybe not of the same scope but a real danger. It is long overdue that the Cuban Adjustment Act be repealed but of course neither the Democratic nor Republican party would pander to citizens by repealing a biased and ineffective relic of the cold war that could possibly offend immigrants.
http://shark-tank.net/2013/01/18/radel-supports-rubio-on-immigration-open-to-guest-worker-program/

Rep. Radel supports Senator Rubio's effort to "fill the void for labor here in the United States."

FLIMEN Note: What labor shortage?
http://nbclatino.com/2013/01/21/opinion-rubio-cornered-on-immigration/

"Today we not only see Rubio having changed his position on immigration we see him as the GOP face of immigration reform."

FLIMEN Note: There will be many FLIMEN Alerts forthcoming detailing Senator Rubio's blocking of immigration enforcment bills as House Speaker and his campaign lie that he opposes AMNESTY.
http://www.foxnews.com/on-air/oreilly/index.html#/v/1797720807001/documentary-blows-the-lid-off-illegal-immigration/?playlist_id=86923

http://tcta.squarespace.com/screenings/

FLIMEN Note: The video "They Come to America" blows "The Lid Off Illegal Immigration" but of course the liberal opinion industry (because news and journalism are dead) refuse to acknowledge the video and the negative impacts of illegal immigration.
January 23, 2013
---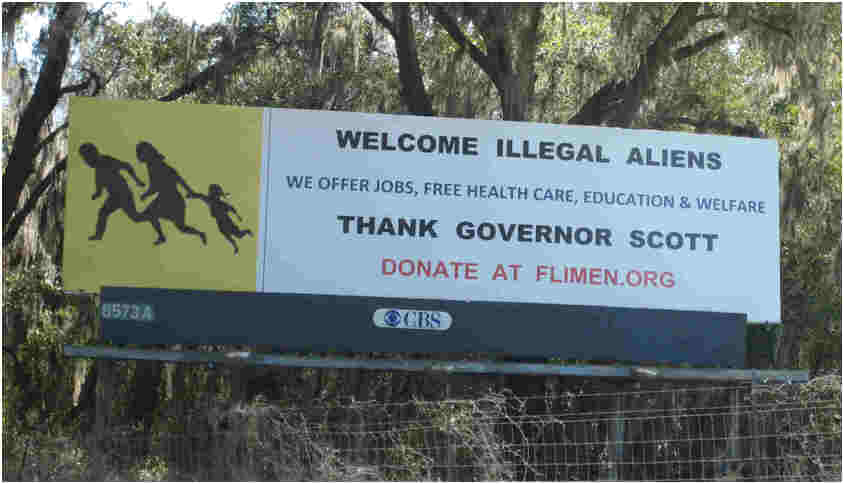 GOVERNOR RICK SCOTT HAS BROKEN HIS CAMPAIGN PROMISES!
GOVERNOR RICK SCOTT MUST BE HELD ACCOUNTABLE!
The above illuminated billboard, which was located on Southbound I-75, 5.2 miles South of US129 at mile marker 445, near the Georgia border, was erected on February 8, 2012 by the all volunteer organization Floridians for Immigration Enforcement. This is a wakeup call for Florida Governor Rick Scott who promised Floridians he would work to get mandatory E-Verify enacted to protect our legal workers. He has remained silent and has failed to use the power of the Governor's office to help get E-Verify enacted. The billboard was funded for several months only.
Governor Scott touts jobs he creates but does not answer whether they are filled by legal or illegal workers while over 900,000 legal workers remain unemployed. Meanwhile, Florida taxpayers are saddled with a cost of over $15 Million a day for education, health care, and inmate incarceration for Florida's estimated 900,000 illegal aliens.
Now is the time for Governor Scott to fulfill his campaign promise. Seven states directly North of Florida have passed mandatory E-Verify making Florida a job magnet for illegal aliens. This is not acceptable. Now is the time to fulfill the campaign promise made to the 76% of Floridians who consider illegal immigration a serious problem.
Now Governor Scott let's get to work and keep your promise:
"Rick will require all Florida employers to use the free E-Verify system to ensure that their workers are legal."
Archived at: http://web.archive.org/web/20101008004913/http://www.rickscottforflorida.com/home/issues/border-security/ (may have to click "impatient")
Why Rick Scott?
FLIMEN endorsed Rick Scott for the 2010 Florida Gubernatorial race based on his vocal, assertive support of immigration enforcement which he made the central theme of his campaign, all over the state. When illegal immigration became an issue between Rick Scott and Bill McCollum, Rick Scott pursued the illegal immigration issue even more vigorously via a massive television advertising campaign. Rick Scott's trail of promises is well-documented.
Upon inauguration Rick Scott implemented E-Verify for state agencies via Executive Order. This was a good first step but since that time Rick Scott, other than answer a few reporter's questions on AZ1070, failed to show any leadership on the issue as promised. Rick Scott never had a press conference like he did for pill mills, never made any behind the scene effort to FLIMEN's knowledge, refused to specifically endorse any E-Verify bill, refused to call wavering Senators and refused to meet with FLIMEN and others on the issue. Since the day after inauguration he totally forgot his campaign promises.
While many others including Senate President Haridopolos, Senator Flores, Senator J. D. Alexander, Senator Thrasher, Senator Bogdanoff, House Speaker Cannon to a lesser degree, and Agriculture Commissioner Putnam are to blame for the failure to enact E-Verify, it was only Governor Rick Scott who campaigned so vigorously on the issue and won but failed so miserably to fulfill his promises.
February 8, 2012
---
E-VERIFY MUST BE ENACTED NATIONWIDE!
E-Verify is about protecting the jobs of legal workers, so there are really only two sides to this issue. Elected officials support the hiring of illegal aliens or the hiring of fellow citizens. Many Floridians and their families are hurting. They have lost their jobs, they have lost their health insurance, and they have lost their homes. At the end of the day, if elected officials are unwilling to protect our jobs, then maybe it's time that those elected officials lost their jobs.
Jack Oliver, FLIMEN Legislative Director
E-Verify Summary:
1. E-Verify is a highly successful federal program where employers are required to confirm the legal status of new hires.

2. E-Verify effectively addresses the main enabler of illegal immigration -- The Job Magnet.

3. E-Verify has been successfully utilized in about 17 states, many municipalities and more than 238,000 employers who voluntarily enrolled.

4. E-Verify is highly accurate at 98.3%.

5. E-Verify is totally non-discriminatory as all new hires are verified.

6. E-Verify applies the pro-enforcement principal of 'Attrition by Enforcement' which means illegal aliens will self-deport when they cannot hold jobs here. It is also a deterrent to potential illegal entrants seeking jobs.

7. E-Verify covers only new hires which allows employers to phase into legality without drastic upheaval to the employer or industry.

8. E-Verify has improved significantly and will continue to be improved.

9. E-Verify is a modern on-line extension of the I-9 system that has, since 1986, required employers to verify employment eligibility.

10. The legality of E-Verify was affirmed when the US Supreme Court on May 26, 2011 ruled in favor of the Arizona E-Verify law:

http://www.numbersusa.com/content/nusablog/beckr/may-26-2011/ariz-e-verify-victory-us-supreme-court-adds-pressure-house-pass-national-

http://blogs.ajc.com/political-insider-jim-galloway/2011/05/26/u-s-supreme-court-upholds-e-verify-requirement-on-5-3-vote/
E-Verify Information Links:
Controlling Illegal Immigration: What Ohio and Every Other State Can Do (Heritage)
E-Verify Demonstration Video
(USCIS)

E-Verify Statistics and Reports
(USCIS)

E-Verify (DHS)
E-Verify Works (Nationalreview)
E-Verify: Challenges & Opportunities (Heritage)
Take a look at an important document describing the social principles and counter arguments to E-Verify at: